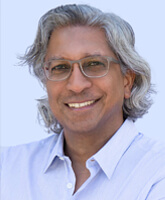 Srinivas Akkaraju, M.D, Ph.D.
Founding Partner, Samsara BioCapital
Srinivas Akkaraju, M.D, Ph.D., is the founding partner of Samsara BioCapital, a biotech investment fund focused on translating cutting-edge biology into new therapies to treat patients with unmet medical needs. Previously, Srini served as a general partner of Sofinnova Ventures and managing director of New Leaf Venture Partners from 2009 to 2013. Before that, he served as a Managing Director at Panorama Capital, LLC, a private equity firm that he co-founded, and was with J.P. Morgan Partners, which he joined in 2001. Earlier in his career, Srini was in Business and Corporate Development at Genentech, Inc. (now a wholly owned member of The Roche Group), a biotechnology company, most recently as Senior Manager. Srini also is a board member of Seattle Genetics, Intercept Pharmaceuticals, Versartis and aTyr Pharma.