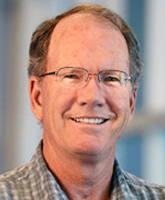 David Goeddel, Ph.D.
Chair of the Board and Managing Partner, The Column Group
David Goeddel, Ph.D., was the first scientist hired by Genentech and from 1978 to 1993 served in various positions, including staff scientist, director of molecular biology, and Genentech Fellow. David's pioneering work in the fields of gene cloning and expression of human proteins was the basis for five marketed therapeutics developed by Genentech, including human insulin, human growth hormone, interferon-alpha, interferon-gamma, and tissue plasminogen activator. He currently is managing partner of The Column Group, a science-driven venture capital firm.  David co-founded Tularik in November 1991 and served as the company's vice president of research until 1996 and CEO from 1996–2004, when Tularik was acquired by Amgen. He has received numerous scientific awards including the Scheele Medal, the Eli Lilly Award in Biological Chemistry, the Inventor of the Year Award, the Jacob Heskel Gabbay Award, the Howley Prize for Arthritis Research and the Warren Alpert Foundation Prize. He is a member of the National Academy of Sciences and the American Academy of Arts and Sciences. David is also a board member of NGM Biopharmaceuticals (Chairman), Peloton Therapeutics (Chairman), FLX Bio, Surrozen, Tenaya Therapeutics, Exonics Therapeutics, and Proneurotech; and is a member of the Scientific Advisory Board of Peloton and FLX Bio.